---
Colored Diamonds / Designer Jewelry / Jewelry News / Proposal / Wedding / Wedding Bands
One of our wonderful customers, Rennie, recently got in touch with us to share her wedding story and we are so glad she did! We love when our customers let us know what memories our jewelry become a part of.  Rennie and her husband were married on January 23, 2016,  in Australia. Rennie's wedding band was a Fancy Yellow Canary Diamond Eternity Ring Band Palladium (0.51ct)
Here is her story: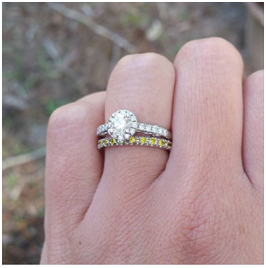 "We got married on Jan 23, 2016. We were having an outdoor rainforest wedding that looked stunning. My husband is from New Zealand, so all his family and friends were in Coffs Harbour, Australia, for the big day. After a week of beautiful weather, and a lot of work put into the ceremony site, we were feeling pretty stoked. The morning of the 23rd, the weather was just fine! Come to about 2:40pm, 20 minutes before the ceremony, a storm started to roll in! By 3pm, it was a full blown storm. With winds, thunder, lightening and heavy rains. The guests and grooms party had to escape, and as they did- the marquees collapsed! We decided that we would have the ceremony at the reception venue which was near the ocean. After some amazing people set it up so we could get married, we finally got married at about 4:30 pm. The weather cleared and we ended up having beach photos instead of the forest. Everything turned out beautiful and everyone has a funny story to tell and remember our day by!"
"I am so stoked with my yellow diamond wedding band and get countless compliments. I look forward to wearing it forever and to purchase from you again in the future!" -Rennie
We look forward to hearing more stories of memories from more of our customers!
To share your story and be highlighted on our Blog as well as Instagram please direct message us on Instagram @Allurez_Jewelers.
SCROLL DOWN FOR PICTURES FROM THIS MAGNIFICENT WEDDING