---
Category 2 / Rings / Stackable Rings / Unique Jewelry / Wedding Bands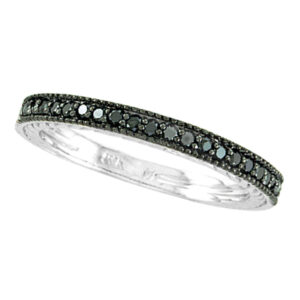 There's a popular saying-"Diamonds are women's best friends". Diamond in any form can make women fall in love with them. Hence, buying and wearing diamond stackable rings shows that you follow this popular trend. All in all, a diamond makes one look extremely fashionable.
Stacking rings are narrow ones which can be singularly worn or they can be worn in groups so that it gives the effect of wearing fat rings. The bands are narrow and therefore it renders a nice effect on the fingers. It generally projects a unique sense of fashion and can be worn in a mix and match fashion.
Jewelry is a good way to bring out one's personality as well. There are different types of diamond rings available in the market. Stacked rings are generally worn in pack of 3 which makes it more appealing. If the rings look similar the effect is best.
You can opt for a solitaire diamond ring or a stackable ring which contains small diamonds spread on the rings. Both look beautiful, but choose according to your taste and personality. You have quite a few choices when it comes to diamond colors. Either you can choose the traditional diamond or go with colorful diamonds which can be chocolate or pink in color. Pink diamonds especially look cute on fair complexioned hands.
You can use the diamond stackable rings to signify each person in your life. For instance, you can wear a stack ring for your beloved, for your child or just like that. Add to your jewelry collection a diamond stacking ring and increase the variety of your collection. These rings make great gifts for birthdays and anniversaries.
Mix and match each and every ring to custom a different look every time you wear a new dress our outfit. They are generally worn on the right hand and you can wear them on any finger. These stacking rings generally have a gold or silver base on which the diamonds are placed making them look stunning.

About Allurez
Allurez is the premier designer and retailer of high quality fine jewelry with a brand name known to royals as well as to the rich and famous. We are committed to providing you with the largest and the finest selection of engagement rings, wedding bands, bridal jewelry, fine fashion jewelry, and certified loose diamonds. Go ahead, browse our store, and find your perfect jewel!