---
Birthstone Jewelry / Gift Ideas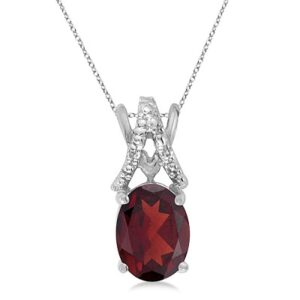 The brilliant yet deep color of a garnet gemstone is enough to take anyone's breath away.  Therefore, it is easy to guess that garnet jewelry is some of the most popular in the world.  Whether you want to have a piece that you can wear for everyday fashion or you are scouring the globe in search of the perfect bedazzled variety of jewelry for one of the most special moments in your life, garnet is a gemstone that you should most certainly look into before you waste time digging through lesser stones.  Also, gifts for those born in January come into play as January birthstone jewelry are composed with garnet.
A January birthstone ring, or a simple selection of garnet rings in general, can easily bring alluring glamor into your personal fashion type.  Garnet gemstone rings can be cut into any shape common to other precious stones—no matter which you prefer.  The rich red color looks especially great in angular shapes though, such an emerald or simple square cut.  If your jewelry collection is in need of something new to go around your neck, you cannot go wrong with a garnet necklace.  Pendant necklaces created from garnet stones tend to be the most popular, but chandelier type necklaces with multiple garnets in place are fabulous for elegant occasions.  In order to complement your new necklace, try for matching garnet earrings that work with the original shape or cut of the gems in your necklace.  However, do not feel pinned in with this tradition as mixing and matching shapes and styles work great as long as the stones remain the same.  A very popular style at the moment involves garnet diamond jewelry so that the two precious gems work with each other to add an element of allure to the glamor innate to the stones in general.

About Allurez
Allurez is the premier designer and retailer of high quality fine jewelry with a brand name known to royals as well as to the rich and famous. We are committed to providing you with the largest and the finest selection of engagement rings, wedding bands, bridal jewelry, fine fashion jewelry, and certified loose diamonds. Go ahead, browse our store, and find your perfect jewel!