---
Gift Ideas / Romantic Tips / Unique Jewelry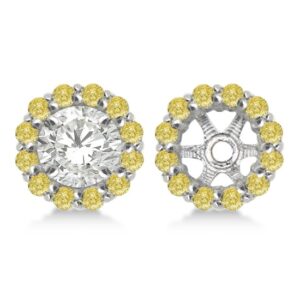 Everyday stud earrings are the flavor of all seasons and you can wear them whenever and wherever you feel its right. However, there are several occasions when you think that a bit of jazzing up is necessary. As all of us understand that owning a piece of jewelry with diamonds and precious stones is really a pricey affair, we often resort to finding out inexpensive yet brilliant alternatives for the same. And if you are wondering about the idea, fret no more! Earring jackets are useful pieces of jewelry that will effortlessly complement your existing collection without compromising on beauty or your budget. This is an important earring accessory that will help you to create new styles everyday!
If you are planning to go a bit more expensive with the earring accessories, there is no better option than investing in diamond earring jackets. A simple diamond stud for your regular corporate wear can be excellently spiced up for that night out or an engagement party, easily by coupling it with the diamond earring jacket. Depending on your stylistic preferences, you can buy a bejeweled and hanging earring jacket in various hues of diamonds or you may simply go for a round shaped jacket adorned with numerous cropped clear diamonds. Earring jackets are very simple to operate, if you may at all call it an operation! Simply attach the jacket to the stud earring as you push its stem through the small hole of your earring jacket. And that's it! You have an amazing dangling sparkling diamond earring or even a chandelier earring! It is nothing but an easy and fun way to add color and life to your existing collection of jewelries.
The best part about diamond jacket is that you do not have to worry much about the exorbitant prices of solitaires or exclusive diamond studded earrings. This piece of jewelry is generally benevolent to the pockets of the buyer as it works as a fashion accessory. You will find popular jackets in a wide variety of shapes and sizes. Differently shaped diamond jacket will lend exclusively unique style for the earring. The well-received choices include teardrops, love knots, chandelier, hammered and the hoops. You can also become creative with them to mix and match the earring jackets to accentuate jewelry items like different gemstone jewelry or pearls.
Diverse types of metals like white gold, platinum, or gold are used for the jackets. Only you need to pick one that will perfectly complement your earring!
If earring jackets are your favorite, shop online with us at Allurez.com. We carry a full line of diamond earring jackets. You can trust us because, at Allurez, we only sells natural, genuine and untreated stones. None of our stones are artificial or lab created. If you would like to know more about Allurez, visit us at: http://www.Allurez.com.

About Allurez
Allurez is the premier designer and retailer of high quality fine jewelry with a brand name known to royals as well as to the rich and famous. We are committed to providing you with the largest and the finest selection of engagement rings, wedding bands, bridal jewelry, fine fashion jewelry, and certified loose diamonds. Go ahead, browse our store, and find your perfect jewel!