---
Diamonds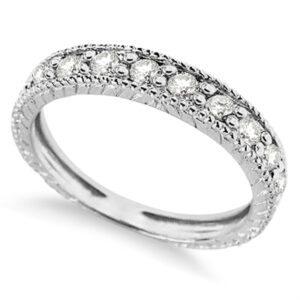 Accenting your fingers with rings is a time honored tradition found in many cultures.  While some of the fashion rings we wear today would most likely get in the way of the daily tasks associated with hard work that our ancestors probably encountered, we are lucky enough to have many advancements that make the wearing of diamond rings practically a necessity in the modern world at least during some point in your life.  Increasingly sophisticated mining methods have made countless types and varieties of diamonds readily available, and fine jewelry designers have taken advantage of that fact by creating a huge assortment of diamond rings.
A diamond right hand ring can really spice up even the most mundane and everyday outfits as long as it fits your personal style philosophy.  Right hand diamond rings that are used more for style rather than declarations of eternal love like diamond rings on the left hand and therefore can vary widely in design and even diamond color.  Antique diamond rings help to show everyone your love of the past and historical influences while still promoting your fashion sense in relation to diamonds.  Designer diamond rings (whether they are vintage diamond rings or more along modernist lines) can readily mold to your personal ideas of fashion no matter what you want to explore.  In addition to these assortment of styles, you can even take your love of diamond rings to the next level with stackable diamond rings that pile on each other to create an otherworldly sparkly and shine.  Colorful diamonds are a long time favorite for diamond stackable rings if you think that you might want more than the traditional crystal clear and really impart your stylistic fashion on those around you that you interact with on a daily basis.  Shimmering with the always beautiful diamond in the form of diamond rings to be worn on your right right will never go out of style.

About Allurez
Allurez is the premier designer and retailer of high quality fine jewelry with a brand name known to royals as well as to the rich and famous. We are committed to providing you with the largest and the finest selection of engagement rings, wedding bands, bridal jewelry, fine fashion jewelry, and certified loose diamonds. Go ahead, browse our store, and find your perfect jewel!