---
Designer Jewelry / Engagement Rings / Gift Ideas / Proposal / Unique Jewelry / Wedding Bands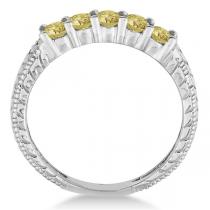 Even though fashion really changes and alters over the ages, diamond rings in general are an eternal favorite in the entire jewelry realm at large.  Fashion designer jewelry especially adores them to the point of even loving them.  In fact, it is quite difficult to find an individual who does not at least appreciate the unique sparkle associated with diamond stones contrasting against a precious metal band worn on your finger.  However, like all things though, fashionable fancy designer jewelry has the habit of always seeking out something considered to be new and bold.  In the realm of diamond rings, colored diamonds are able to fill the void which many jewelers have in their collections.  The concept of colored diamond bands that truly overflow with a fundamental allure is one that has strongly and steadily begun to gain popularity in all levels of the high class designer fashion jewelry realm.  It is rather obvious as to why this occurrence has taken place though.  Still, while it is quite easy to see why these bejeweled personal adornments are worn by both fashion models as well as the average style conscious citizens of the world, the inspiration of yellow diamond bands in particular have started to rise above the other shades of diamond stones to take on a prominent life of their own.
A yellow diamond ring can really help to complete an occasion or special outfit.  The symbolism associated with the shade of yellow in general is one of the things that helps to make the innate importance of yellow diamond rings known to everyone in the fashion world.  Yellow has forever been linked with the sun for obvious reasons.  This idea means that the color is rapidly connected with brightness, summer, overall light, and of course daytime.  The related ties that easily and inevitably follow come from those basic foundations of joy, fun, one-of-a-kind bright flair, and overall happiness.  It is therefore rather simple to support these metaphors because of the ring's ability to reflect a special shade in a beautiful and alluring shimmer throughout an entire room if hit with the right sort of light at the proper angle.  A yellow canary diamond ring in particular is known for its unique ability to have a bold shine because of the fact that it is the brightest of the yellow diamond family.  Everyone naturally desires a canary diamond ring to brighten up their rainy day.  Go snag a few of your own!

About Allurez
Allurez is the premier designer and retailer of high quality fine jewelry with a brand name known to royals as well as to the rich and famous. We are committed to providing you with the largest and the finest selection of engagement rings, wedding bands, bridal jewelry, fine fashion jewelry, and certified loose diamonds. Go ahead, browse our store, and find your perfect jewel!