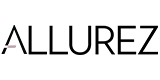 Login
|

Bookmark
|

Jewelry Education
|

Compared Items (0)
|

Shopping Bag
( 0 item )



Top 5 Reasons to
Choose Us:
Unbeatable Prices
Free Insured Shipping
Easy Returns
BBB Accredited Business
Award Winning Customer
Service





Allurez in the News

At Allurez we are happy to share our news with the world. It is with great pride that we share the latest buzz about Allurez and the jewelry industry through news stories and other media sources.
We welcome visitors to our office. Office visits are by appointment only. Please contact us to schedule an appointment.